I was never satisfied with the under-couch storage in the B190, so I changed it entirely. Now it folds up out of the way so I can reach all my cargo from above rather than through the drawer. The drawer on mine had fallen apart before I bought it anyway, so I removed it. There's just a big empty compartment under the couch.
I started by taking the couch out entirely.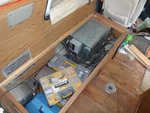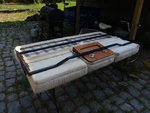 I added strap hinges to the back of the base of the couch's steel frame. The other half of the hinge attaches to 4"x4" blocks. These raise the seat-height of the couch by 4", but it gives the clearance needed to allow the frame to lift up.
Here's a video showing how it works:
https://youtu.be/4DcZr6YOZKQ
This lets me use the entire space under the couch.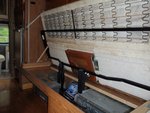 I keep a small stick under there which I use to prop up the couch when I need it out of the way, as you can see there. This last picture was taken some time later, after my new floor. See more on that here:
http://b190.com/viewtopic.php?f=2&t=2310